A well designed and constructed Home Extension is easily recognised as being a more economical option to moving house. You can provide yourself with the additional living space you require and can increase the value of your property by more than the cost of the extension.
Peace Of Mind
We appreciate most people rarely undertake major building projects like a Home Extension, however we have built many of them and have the experience and expertise to carry out the work efficiently and effectively to reduce your costs, minimise upheaval and provide you with the highest quality finish. We can answer any questions you may have and will also be happy to give you the contact details of other customers who have had similar work carried out.
Home Extensions, Minimising Mess & Disruption
It's essential to minimise the disruption and mess to the occupied part of the property. We will always put down coverings to protect floors, carpets and furnishings if there is any potential risk. We will always treat your property and possessions with respect and care.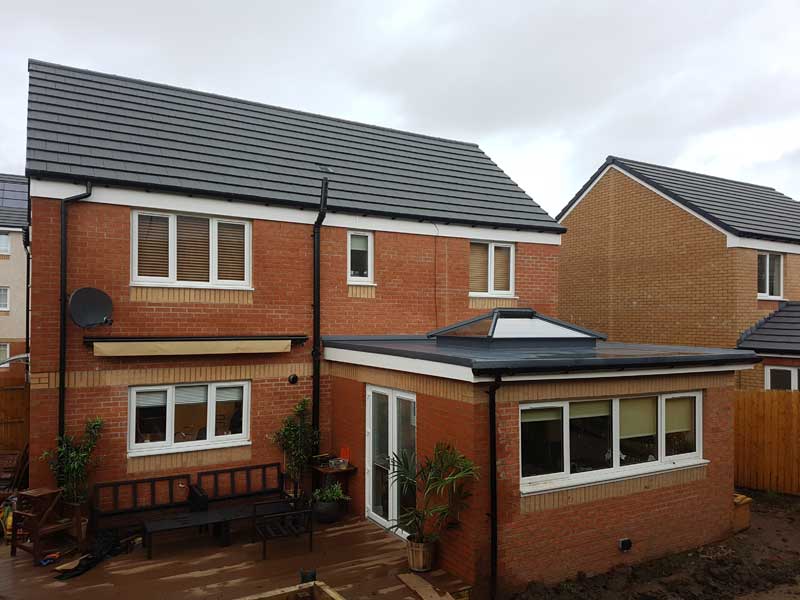 Planning & Organisation
To efficiently construct a Home Extension, requires the coordination of many elements starting with the planning permission (if required, see guidance below) to organising delivery of materials and different work being carried out in the right order and without delays.
Clydewide Joinery take care of all the activities for you. Our planning is as meticulous as our workmanship and our organisation skills are tested and proven. All these elementsensure the smoothest coordination to minimise delay and expense.
Communication - Keeping You Informed
We will always keep you advised of what is happening, when deliveries are being made, when skips are arriving and being removed. We will also keep neighbours advised when appropriate, to ensure they are not inconvenienced in any way and so they have a point of contact should they need it.
House Extension - Planning Permission is required if:
The volume of the house is increased by whichever is greater of the following amounts. 24sq meters(28.7sq yards) or 20% of the original house volume
The new height is higher than any part of the house roof
Any part of the extension is within 2 meters(6ft 6ins) of a boundary has a height of more than 4m(13ft) high
The planned extension will cover more than 50% of the original area of the garden
The conversion/extension is to be an independent dwelling
It is in a conservation area
It is a listed building
At Clydewide part of our service is to help you to navigate this process and ensure that you have the correct planning permissions. We will make sure you are aware of the processes involved in completing conversions and extensions with the minimum of delay and expense.
Guidance Notes
Some useful links, should you choose to deal with this yourself.